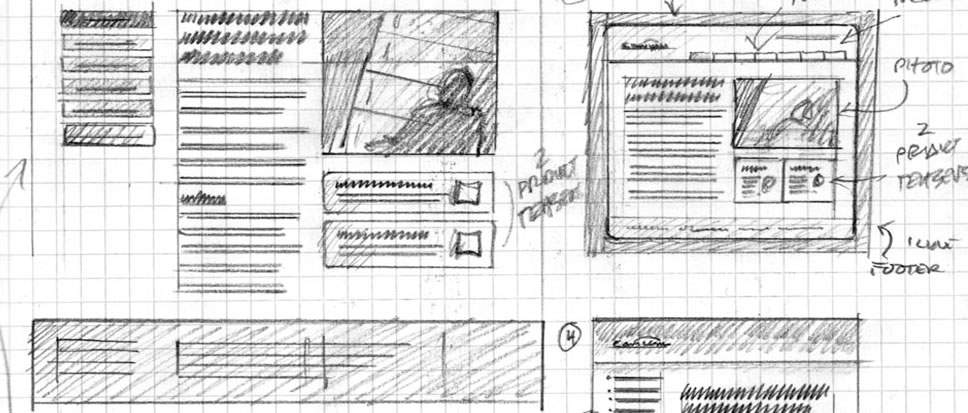 Pricing is one of the most important elements that you should consider when you're planning on hiring a web designing professional to work on your new website. Nowadays you can easily find web designers that can help you build a website whether an individual or a company. When you're looking for a web designer, take your time to review your options, learn about what they have to offer and make comparisons of their services and prices. Make sure the web designer that you finally hire can give you a website that can help you achieve your goals with a fair price.
Plan Your Website
However, before you start thinking about the price, first you need to make a basic planning for your site. Find out exactly what you want to achieve by having the website, then create a basic structure for it and put it in writings. You don't have to be very detailed about it, because that will be the web designer's job. You can browse the internet to see some samples of websites that are quite similar to what you have in mind. Having a rough website structure before you go to a web designer will be very helpful to make it easier for you to make the web designer really understands what you want.
Choosing The Web Designer
When you're already armed with the rough planning for your site, it's time for you to search for a web designer to work on the project. Choosing a local designer is always a good option so you can easily communicate your ideas to make sure that you receive what you pay for. Make sure the web designer is easy to work with and have lots of experience in the business. It would be better if they have many experience in working on websites that are similar to yours or at least in the same industry. Ask them to show you some samples of their past projects.
There are basically three kinds of web designers you can hire. Web designers who can deliver excellent service, web designers that can only provide an average service, and then there are web designers who provide web designing service without having enough skills and experience.
Types of Web Designers and Their Prices
First of all you have to be realistic and not easily tempted by cheap offers. If someone is charging you $50 for a web design don't expect to get a perfect website. $50 for a complete web design sounds like a very good deal, but to expect a highly functional website at that price is simply impossible. That kind of price is likely can only be offered by a so called web designer who doesn't have any experience or even doesn't have the necessary skills to properly design a website. This person could be just using your website as an experiment.
It is true that a good website design doesn't have to be very expensive, but it doesn't mean that it has to be that cheap, because that's unrealistic. Web designing has a lot of aspects and there are so many elements need to be worked on.
Big Web Design Companies
There are a lot of decent web design companies that can provide excellent service with great a customer support. Usually these companies are run by professionals that have many years of experience in web designing industry. Usually they have a very neat record of their past projects, so you can easily look at the results of their work. They can even give you contacts of their previous clients so you can get genuine review from the people who actually have used their service. They usually will assign an account manager to specifically handle your project and guide you through the entire process while a team of professional web designers will work on your website.
Of course such service comes with a price, a big web design company like this can charge you tens of thousands of dollars. But in return you will get a website that you will be satisfied with. It will be delivered on time, also you will get the look and functions just like the way you want.
Small Web Design Companies
If you or your company can't afford to spend that much money, then choosing a smaller web design company to handle the project would be more reasonable. A small web design company usually run by only a few individuals. Usually such company have much less overheads and they often have highly skilled web designers working for them. They might have less experience and references than bigger companies but they can really produce some excellent web designs.
The downside is because they have a much smaller team, sometimes they could get overwhelmed when they handle a lot of web design projects and your website might not be done on time. The quality of their customer support usually also not as good as bigger companies. But if you're looking for a good result without too much expectation, you can save a lot of money by using their service.
Freelance Web Designers
These are probably the most overlooked web design professionals. Usually when planning on hiring a web designing professional, people tend to look for a web design company. But actually there is a wide community of professional web designers that deliver great work that you can hire. These people are usually self-employed individuals who work from home. Some of them are really good at what they do. As long as you can pick them carefully you can have someone to design your website with a great price. They usually charge by the hour and there are also some freelance web designers who can offer you a fixed price.
Getting a Fair Price
When you have learned about your options and decide what type of web designer that you want to work with, you can begin to compare their prices. Only compare those that you believe can deliver results with the same quality after you learn about their services. Therefore you will know who can give you a better deal. Just remember that you will get different price ranges based on the level of service you decide to have.